Epoxy Floor in Bremen, Indiana
We recently helped a garage floor transform into an epoxy floor in Bremen, Indiana. The garage is a work in progress and the floor was in the first phase of the makeover. The homeowner promises to send more photos when it is done. The concrete had many divots in the front of the garage at the door and a little beyond. Michiana Epoxy can fix those divots. There was also an extensive chunk missing. We were also able to fix that.
---
The Details:
Location: Bremen, IN
Temperature: 45˚ F
Color: 1/4″ Tuxedo
Size: 542 Sq. Ft.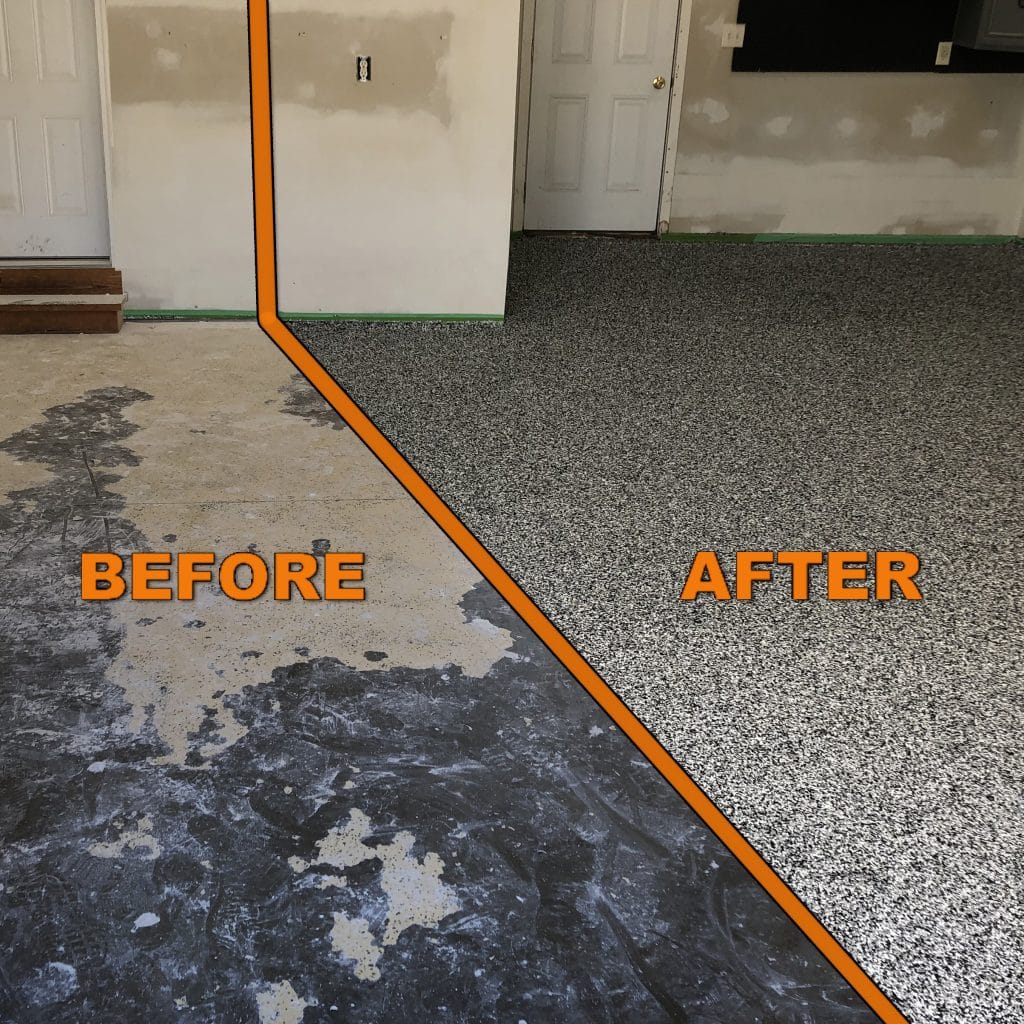 It is always a good day for an epoxy floor in Bremen. There was an existing coating on the concrete from a big box store DIY kit floor. You can see the tan remnants of it in the photo above. We can grind away the old floor. It will usually double our grinding time, but it has to be done if you want to be able to get the right profile for the new floor.
The colors for this epoxy floor in Bremen were Whisper Grey and Tuxedo. This floor will last decades and the divots and missing chunks are like they never even existed.
Epoxy floors are amongst the best values in home improvement. It is high quality, high durability, easy to maintain, and beautiful to look at. See this answer and others in our FAQ section.
Did you know that grinding your concrete create a far superior profile to acid etching? It's true. Read about it here: Grinding versus Acid Etching.
Could you have done this job yourself? Yes, but it would not last decades. It might make it a year before you had to touch it up, which is what happened to the homeowner. Check out: The True Cost of a Cheap DIY "Epoxy" Floor.
Are you curious about how we do it? Here is our process, check it out! Have you seen enough? If you would like us to come out and give a FREE QUOTE, please just let us know! We would love to meet you and we really like measuring things.
---
Now you can book your quote online!
Click the button below to choose your date and time!
---
2-Car Garage Floor Makeover in Bremen, Indiana